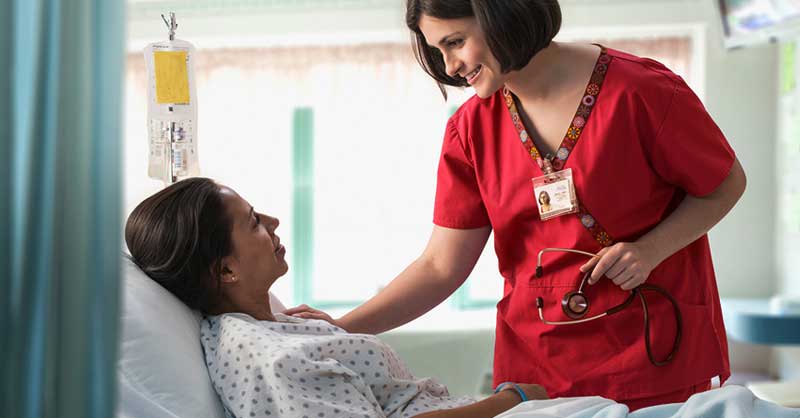 Before jumping into a career as a nurse, it's important to have a clear vision of whether it's right for you. Each person has a unique answer for, "Why become a nurse?" Knowing the pros and cons of nursing can offer clarity.
At the University of the Incarnate Word (UIW) in San Antonio, Texas, we believe the pros of nursing outweigh the cons. This career offers meaning and purpose. Our 16-month Accelerated Bachelor of Science in Nursing (ABSN) track helps eligible students earn their nursing degree.
Before you decide if nursing is right for you, here are the pros and cons of a nursing career.
4 Pros of Nursing
Nursing is a career filled with opportunity, purpose and stability. Let's discuss the pros of nursing so you answer this question for yourself: "Why become a nurse?"
1. Impactful Career
Nurses make a difference in people's lives daily as they help patients overcome health challenges. Whether working in a clinic, hospital or school, nurses use their skills to provide aid to those in need.
2. Positive Relationships
Do you enjoy making meaningful connections with others? Nursing is a people-focused career, and each day will consist of you interacting with patients, families, nursing peers and other members of the treatment team. You'll get to know your patients and form connections that bring meaning not only to your patients' lives, but to yours as well.
3. Job Security
Nurses are in high demand, and this demand will only grow as time goes on. The nursing workforce is expected to grow by six percent between 2021 and 2031, according to the U.S. Bureau of Labor Statistics (BLS). Nursing is a career in which you'll be sure to have job opportunities no matter where you live.
4. Competitive Salary
Nurses make a competitive salary, averaging $77,600 per year according to the BLS. Depending on your location and what specialty you enter, you can potentially earn significantly more. Additionally, most healthcare employers provide comprehensive benefits packages, including health insurance, paid time off and 401(k) matching.
3 Cons of Nursing
While there are many advantages of nursing, you'll need to face a few challenges as well.
1. Rigorous Degree Program
Through the ABSN track, you can start your nursing career sooner by earning a degree in as few as 16 months. However, bear in mind that with an accelerated program, you're going to need to work hard, as the curriculum is rigorous and fast-paced.
2. Exposure to Bodily Fluids
Nurses have the responsibility of caring for patients when they're at their most vulnerable, and this can often include dealing with bodily fluids. Nurses need to be comfortable handling blood and other substances, while sufficiently protecting themselves from infection.
3. Dealing with Loss
Another challenge of nursing is that you'll need to deal with grief if a patient does not survive. Depending on what specialty you enter, you may see more or less death, but no matter what, you'll need to be prepared for that possibility. Remember to lean on your support system and seek help as needed to help you through these tough times.
Become a Nurse at UIW
Now you know the pros and cons of nursing. If you're ready to become a nurse, and you meet the eligibility requirements, consider exploring the ABSN track at UIW.
To learn more about the ABSN track, and see if it's right for you, reach out to our admissions counselors by filling out our online form.