Nursing Simulation Labs and Skills Labs
It takes more than theoretical knowledge to be a great nurse. You also need the skills, confidence and clinical reasoning to think on your feet in potentially stressful situations. That's why nursing simulation labs and skills labs are such an important part of the University of the Incarnate Word (UIW) Accelerated Bachelor of Science in Nursing (ABSN) track.
Featuring high-tech human patient simulators and task trainers rather than real-life patients, skills and simulation labs provide a safe environment to practice and refine your clinical skills — whether inserting an IV or responding to a life-threatening medical emergency. During these sessions at our state-of-the-art ABSN learning site in San Antonio, you'll receive the kind of individualized attention you can only get with small class sizes.
Nursing Skills Lab
Before you can practice as a nurse, you need to master the basics. Designed to resemble a hospital environment, nursing skills lab allows you to practice applying fundamental nursing skills, such as:
Checking vital signs (blood pressure, pulse, etc.)
Conducting a head-to-toe nursing assessment
Inserting catheters and IVs
Nasogastric intubation
Treating wounds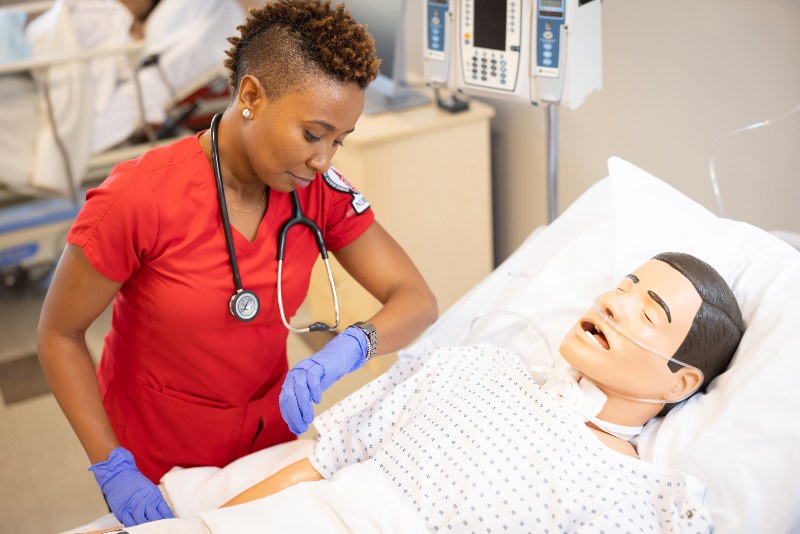 In addition to attending Accelerated BSN skills labs two to three days a week, we offer open lab hours for students who want to further hone their skills.
Nursing Simulation Labs
Building on the skills lab concept, nursing simulation labs are about as close as you get to real-world practice without interacting with human patients. Here, you'll participate in a variety of scenarios designed to challenge and grow your ability to solve problems, think critically and collaborate with others, all in a safe environment where it's okay to make mistakes.
At the heart of these mock scenarios are state-of-the-art medical manikins. Controlled by your simulation instructors, these manikins don't just look human; they act it, too. From simulating a variety of conditions — such as allergic reactions, blood loss and cardiac arrest — and responding to medical procedures to describing their symptoms and asking questions, these patient simulators allow you to actively engage in patient assessment and care.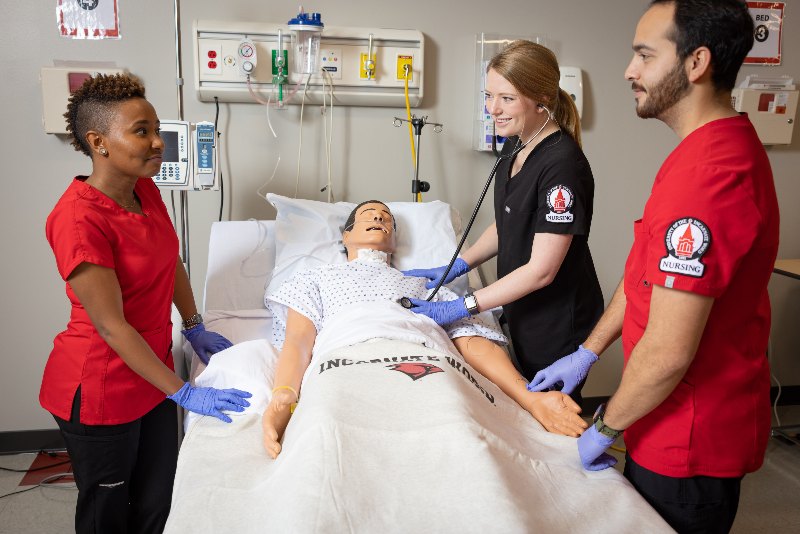 However, the learning opportunities don't stop when your nursing simulation labs end. Afterward, you and your lab group will watch recordings of each scenario and discuss how it went. This not only allows you to learn from your and other students' mistakes, it also provides your instructor guidance on what he or she needs to focus on to best help you.
Contact us to learn more about how our ABSN skills and simulation labs prepare you for a future in nursing.