ABSN Curriculum
Over the course of our 16-month accelerated nursing curriculum at the University of the Incarnate Word (UIW), you will complete 62 credit hours of CCNE-accredited coursework, spanning four semesters. Each semester consists of online courses, hands-on labs and clinical rotations, culminating in a capstone course designed to help you transition from nursing student to professional nurse. The ABSN curriculum is designed to give you the skills required to be a nurse manager and leader.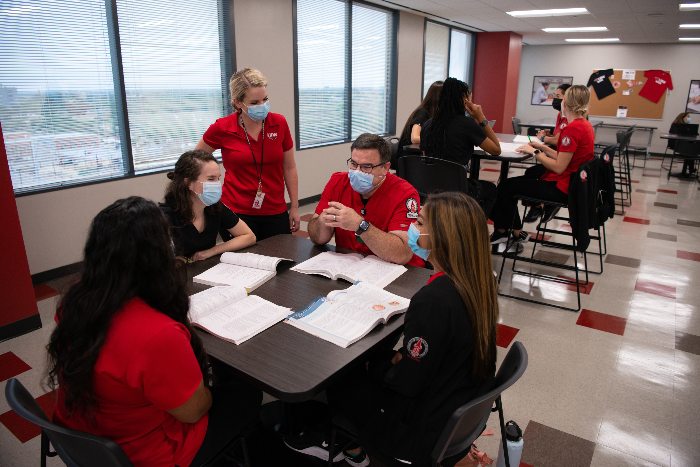 Once you graduate from our Accelerated BSN track, you'll be ready to sit for the National Council Licensure Examination for Registered Nurses (NCLEX-RN) — the final step toward nursing licensure. In 2020, 98.7% of Incarnate Word BSN students who took the NCLEX passed on the first try — well above the state and national average.
Semester I
Course
Description
Credits
NURS 2350
Intro to Professional Nursing Leadership
3
NURS 2313
Basic Health Assessment
2
NURS 2313L
Basic Health Assessment Lab
1
NURS 2315
Nursing I Health Promotion & Disease Prevention
3
NURS 3325
Healthcare Pathophysiology
3
NURS 3335
Pharmacology & Safe Medication Administration
3
NURS 2125
Integrated Clinical I
1
NURS 3125
Integrated Clinical II
1
Total Credits: 17
Semester II
Course
Description
Credits
NURS 3315
Nursing II: Aging, Chronicity & Care Coordination
3
NURS 3311
Healthcare Communication
3
NURS 3545
Medical Surgical Complex Care Nursing I
5
NURS 3345
Medical Surgical Complex Care Nursing I Clinical
3
NURS 4431
Psychiatric Mental Health Nursing
4
Total Credits: 18
Semester III
Course
Description
Credits
NURS 3355
Evidence Based Practice & Informatics in Nursing
3
NURS 4445
Medical Surgical Complex Care Nursing II
4
NURS 4441
Nursing of Childbearing Families
4
NURS 4415
Nursing of Children & Families
4
Total Credits: 15
Semester IV
Course
Description
Credits
NURS 4282
Senior Seminar
2
NURS 4462
Nursing III: Community Health Nursing
4
NURS 4650
Professional Leadership Capstone
6
Total Credits: 12
How the ABSN Works
The ABSN curriculum at UIW contains three learning components that combine to ensure our students are adequately prepared for their careers. You can plan to receive your education through:
Online courses: Classes are designed to prepare you with foundational nursing knowledge. Online learning allows you to cover a high volume of healthcare topics in an adaptable learning environment.
Skills and simulation labs: These in-person learning experiences help form you into a skilled, competent nurse. In skills labs, you'll learn how to perform many hands-on techniques, including inserting IVs and catheters. In simulation labs, you'll work with high-fidelity manikins alongside peers to practice handling practice healthcare scenarios.
Clinical rotations: These real-world nursing experiences involve work at top regional healthcare facilities, where you will work with a preceptor nurse to learn how to care for patients. You'll rotate through a variety of specialties to gain a solid general clinical education.
Are you ready to start working toward your nursing degree? Give us a call today to talk to an admissions counselor about whether UIW's ABSN curriculum is for you.