Why Study Nursing at University of the Incarnate Word in San Antonio?
Like many cities in Texas, San Antonio and the surrounding metropolitan area is experiencing rapid growth — only at a much faster pace. San Antonio is poised to become the 6th largest city in the U.S. by 2021. It is not difficult to see why. Home to more than 1.5 million people, as well as one of the largest concentrations of military bases in the United States, San Antonio is a vibrant, culturally diverse city with a lot to offer Accelerated BSN students.
In addition to the state's business-friendly atmosphere and thriving jobs market — including a growing healthcare industry — the San Antonio-New Braunfels metro area remains surprisingly affordable, with a cost of living 10.3% lower than the U.S. average.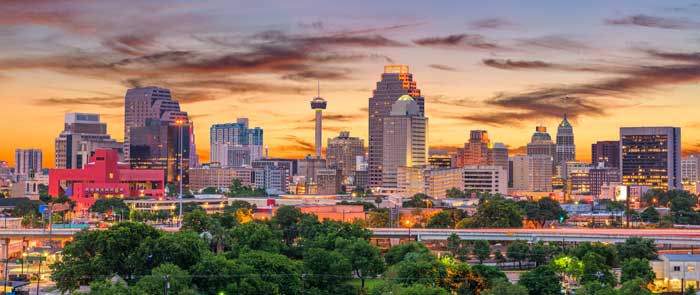 Military City USA
San Antonio is home to four major military installations, all making up one large base called Joint Base San Antonio, making it the most densely populated veteran community in Texas. Joint Base San Antonio is also home to:
25% of Texas active duty population
153,000 veteran residents
25% of the total active duty service members for Texas
Approximately 7,000 active duty service members who will transition into civilian life annually
Besides serving as a major military hub, San Antonio also is the Home of Army Medicine, hosting the United States Army's premier medical institution, Brooke Army Medical Center. Because the city serves as such a huge military population, UIW is proud to be a Military City USA Partner, providing exceptional educational pathways for military veterans and their spouses, like our Accelerated BSN track.
The Best of San Antonio
Should you need to relocate to enroll in the Accelerated BSN track at University of the Incarnate Word, you'll find San Antonio is a great place to live, study … and eat.
Refueling while you study to become a nurse is always important. Lucky for UIW students, San Antonio is one of the two U.S. cities designated as a UNESCO (the United Nations Educational, Scientific and Cultural Organization) Creative City of Gastronomy. From Tex-Mex to German- and Spanish-influenced cuisine, the city's diverse cultures have elevated its status to a new culinary capital.
Contact us to learn more about what it's like to study to become a nurse in San Antonio.