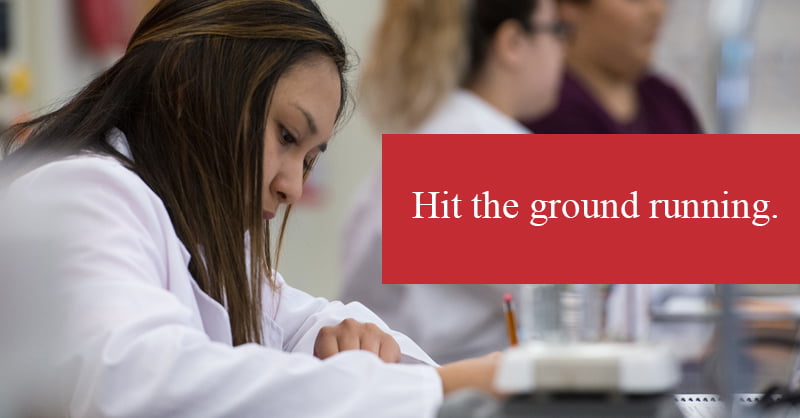 If you've decided to pursue a career in nursing, you probably know that nursing school is a huge undertaking; this is particularly true for accelerated programs. Fortunately, there are some steps you can take in advance of your first semester to start your studies off on the right foot. As you prepare for nursing school, keep the following advice in mind.
1. Contact an Admissions Counselor
A great first step in preparing for nursing school is reaching out to an admissions representative at your school of choice. By doing so, you can learn a great deal about their nursing program, including whether it aligns with your educational goals and personal timeline. When you reach out for information about the Accelerated Bachelor of Science in Nursing (ABSN) track at University of the Incarnate Word, we will put you in touch with a dedicated admissions counselor, who will:
Serve as your main point of contact at UIW throughout the admissions/enrollment process.
Evaluate your transcript and help you develop a plan to meet any outstanding requirements.
Work with you to select a target start date.
During your initial call with your admissions counselor, you'll have a chance to learn more about what is involved in the application process. While not a formal interview, it's still important to be prepared for this conversation. Be sure to have your previous academic transcripts on hand, as well as a list of any questions you might have about the program.
Honesty Is the Best Policy
During your initial meeting and at all times, be completely honest with your admissions counselor. Their job is to help you succeed, and they can only do that if they're fully aware of your academic and other relevant history.
2. Complete Prerequisites
The number of prerequisite courses you'll be required to take will depend on the nature of your previous degree. Those with a Bachelor of Science in Biology will likely need to complete fewer prerequisites than those with a Bachelor of Arts in Music, for example.
Once your admission counselor has identified any prerequisites you must fulfill prior to admission, you can get to work. By successfully completing prerequisite courses, you affirm your ability to begin your nursing education in earnest; get back into the student mindset; and become familiar with the same learning management system used in UIW's ABSN track.
Because prerequisites lay the foundation for your nursing studies, UIW requires that you pass each one with a minimum 3.0 GPA.
3. Take the TEAS
Commonly required for entry into nursing programs, the Test of Essential Academic Skills (TEAS) gauges your proficiency in reading, math, science and English language usage, to establish your readiness for study in the health sciences. To be accepted into the ABSN track at UIW, you must pass the test with a proficient score. It's important to prepare in advance for the test; there are resources online to help you study.
4. Set Up Your Schedule to Focus on Learning
Particularly in an accelerated nursing track, such as the one University of the Incarnate Word offers, homework, labs and clinical rotations will take up most of your time. For this reason, we don't recommend working or vacationing while you're enrolled in the ABSN track at UIW. Missing one week of study can set you back significantly, as concepts presented in nursing coursework materials build upon each other.
5. Seek Support
We highly recommend that you build a strong support system before entering the ABSN track. Meet with your family and close friends to let them know you're embarking on a life-changing journey. Find out how they can help you to succeed. Perhaps your parents can babysit your children while you study, or your spouse can take on meal preparation to lighten your load. Let your loved ones know that your path will be difficult, but temporary — and most certainly worth it in the end.
You can also build academic support by asking your admissions counselor to put you in touch with other members of your cohort — fellow ABSN students who are enrolling at the same time you are. You can get to know your peers and even create study groups before the start of your first semester.
6. Identify Productive Study Methods that Work for You
Since you'll be spending the next 16 months as a student, it's helpful to discover which learning style(s) suit you. Maybe you learn best by reading or perhaps you understand material better once you've listened to it. You can take a VARK (Visual, Aural, Read/write and Kinesthetic) learning assessment online. As a nursing student, you must not only memorize content, but understand it. The VARK assessment will help you determine how you can maximize both your retention and comprehension.
Comfort is Key
Setting up a dedicated workspace in your home can also help you develop strong study habits. Choosing a quiet location with a comfortable chair and ample desk space will not only help you concentrate, but also help prevent any aches and pains associated with lengthy study sessions.
7. Prepare a Way to Stay Organized
Be sure to purchase a hard-copy planner or establish an electronic tool for managing your time. While attending nursing school, it'll be essential to keep track of your assignments, labs, clinicals, exams and appointments.
Pro Tip:
You can increase your odds of staying on top of your studies and schedule by importing your lab and clinical schedules into your electronic calendar.
There are several products on the market to help you with time management. The Freedom app helps with productivity by blocking distracting apps and websites, so you can focus on your studies more easily. The Evernote app provides a place to store and organize notes, to-do lists and other items. It can help you manage assignments, presentations and projects. And if you don't have the time to type, you can always save a note using the app's voice memo feature.
Your Nursing Future Starts Now
Now that you have some useful tips on preparing for nursing school, contact us today to start your journey toward a life-changing career as a nurse.