Summary: Non-nursing students looking for online accelerated BSN programs need to understand that the online part only refers to part of the curriculum. A better description would be online-based or hybrid because students must participate in nursing labs and clinicals to get hands-on experience.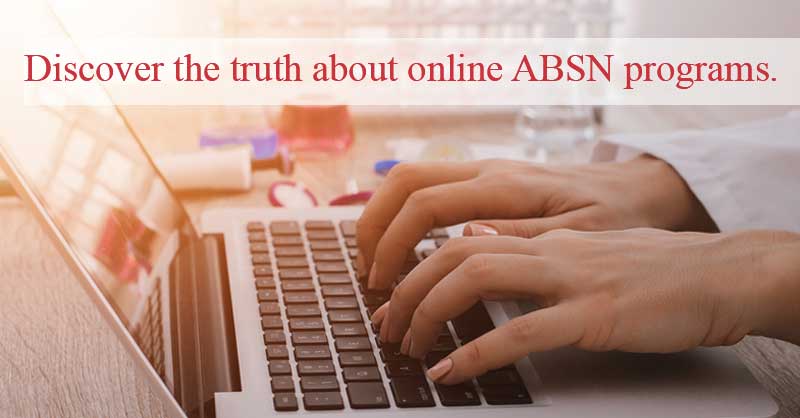 As more people look into online Accelerated Bachelor of Science in Nursing (ABSN) programs, there's no shortage of misinformation circulating about their merits, logistics and limitations. The first myth is that online ABSN programs exist. They don't. If you're a non-nurse looking to enroll in an accelerated nursing program, you will need in-person, hands-on clinical practice before you can become a licensed RN. We'll consider more common myths and provide factual clarification for each of them. And we'll take a closer look at the admissions process for the UIW ABSN track in San Antonio, Texas.
Online ABSN Myths
1. Myth: Online Accelerated BSN programs are completed 100% online.
Fact: One frequent misunderstanding about online ABSN programs is that they are completed 100% online. This couldn't be further from the truth. While our ABSN track allows you to complete your fundamental coursework online, there are hands-on components of the curriculum.
Skills labs allow students to practice their nursing skills — such as assessing vitals, inserting an IV and dressing a wound — in an environment that is free of the risk of harming a patient. And high-fidelity manikins that exhibit lifelike reactions and symptoms stand in for human patients during simulation labs. Real patient actors are sometimes used for simulations that involve a great deal of communication.
In addition, online ABSN students at UIW complete more than 900 hours of clinical rotations in two of the most respected healthcare systems in Southern Texas — Christus Health System and Methodist Healthcare System.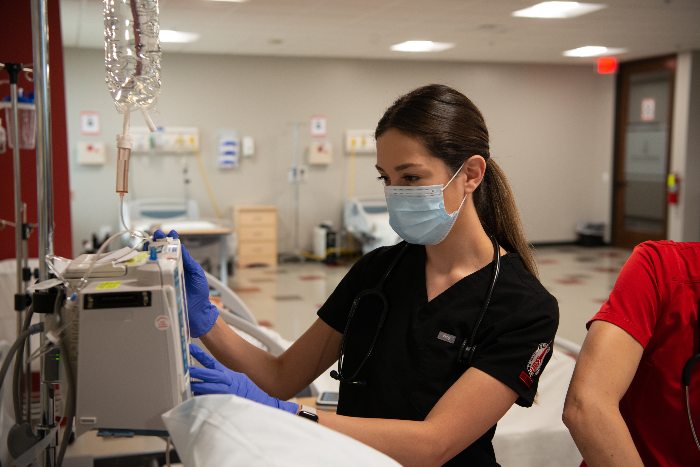 2. Myth: Online ABSN programs lack the social interaction present in traditional programs.
Fact: Our online ABSN students stay in regular contact with one another, academic coaches and instructors via email and discussion boards. Many students feel more comfortable communicating freely online than they would in a classroom setting.
It's common for UIW ABSN students to meet with faculty and their classmates through our Learning Management System's (LMS) video-chat feature. Instructors are also open to holding in-person office hours if you wish to schedule a face-to-face meeting.
In addition, our program offers a great deal of interaction between students and instructors during regularly scheduled nursing skills and simulation labs at our Accelerated BSN Learning Center.
3. Myth: Online degree programs are not recognized as legitimate.
Fact: According to U.S. News & World Report, accrediting bodies hold online programs to the same standards of excellence as traditional programs. The University of the Incarnate Word is accredited by the Southern Association of Colleges and Schools Commission on Colleges (SACSCOC). Our baccalaureate degree program in nursing is accredited by the Commission on Collegiate Nursing Education (CCNE) and approved by the Texas Board of Nursing.
Our online and traditional BSN programs require the same coursework, labs and clinicals. And they're taught by the same qualified university faculty. In fact, the actual degree earned for online and traditional programs is identical; there's no noted distinction.
4. Myth: You can work a full-time job while enrolled in an online ABSN program.
Fact: Working while enrolled in an ABSN program is not recommended. Between course workpapers, reading, quizzes, skills and simulation labs, and clinical rotations, you'll have little time for socialization and self-care. Adding work into the mix will all but ensure burn-out for even the most seasoned student.
Instead, it's recommended that you focus your attention on schoolwork for the duration of the program. Our ABSN track allows you to leverage your non-nursing bachelor's degree to earn a BSN in as few as 16 months. Cutting down on unnecessary expenses can help you get through this 16-month period without working. It won't be easy; just keep in mind that it's a temporary situation and the pay-off will be well worth it.
Tips for Saving Money While in College
It's highly recommended that you not work while enrolled in an ABSN program. Also, it's important to make sound financial decisions during this time. Starting good habits now will serve you for life.
Consider moving into a less expensive apartment or splitting your rent with roommates.
Cut down on eating out, takeout and delivery.
Scale down your cell phone plan.
Get rid of cable. You likely won't have time to watch TV over the next several months.
Forget luxuries like manicures and massages.
Cut back on trips to the movies and other costly outings.
Explore scholarship and tuition reimbursement programs.
5. Myth: Online coursework requires the purchase of expensive computer gear, as well as a high level of computer savvy.
Fact: At UIW, online ABSN students with fundamental computer skills can complete all required coursework using their existing PC or laptop with an Internet connection.
6. Myth: Online nursing programs are built for students with one learning-style preference.
Fact: UIW ABSN instructors and course developers strive to make online classes feel as compelling and interactive as in-person classes. They might employ:
Discussion boards and group projects to help social learners.
Research papers and presentation assignments to engage verbal learners.
Simulated patient case studies for kinesthetic learners.
Puzzles, activities and exams to engage those who learn through logic and reasoning.
Recorded audio lectures to help aural learners.
Presentations, videos, infographics and video chat to help visual learners.
7. Myth: Anyone can succeed in an online ABSN program.
Fact: Due to the accelerated nature of these programs, you'll need to be:
Well-organized
Self-motivated
Level-headed
Disciplined
Resilient
Dedicated
Hard-working
Next Steps
Now that you have a better idea of what to expect from an online ABSN program, you might want to explore the ABSN track at the University of the Incarnate Word. Here are some next steps for you to take:
Speak with one of our admissions counselors. If you fill out our contact form, one of our counselors will call you to discuss your academic history, future goals and how to bridge the gap between the two. This person will be your point of contact throughout the entire admissions process. And they'll check in with you periodically to make sure everything is going smoothly.
Work on completing the ABSN prerequisites. For you to be eligible for our ABSN track, you must maintain a GPA of 3.0 in these courses, which include Anatomy and Physiology, Intro to Microbiology and Psychology.
Take the Test of Essential Academic Skills (TEAS). This test assesses your reading, math and science comprehension. It also evaluates your English language usage to determine your readiness for pursuit of a career in the health sciences. It's important to study for this test; there are free test preparation resources available online. You must earn a proficient score on the TEAS to gain acceptance into our ABSN track.
Once you receive the go-ahead from your admissions counselor, it's time to apply. Submit your application, along with your official transcripts. You should expect to hear back in around 10 business days, though it could take longer depending on holidays.
Don't Wait. Reach out to an Admissions Counselor Today.
Now that you know a bit more about online ABSN requirements, perhaps you're ready to apply to the UIW ABSN track. Reach out to one of our admissions counselors today. They'll help you determine your eligibility, figure out which (if any) prerequisites you need to complete and assist you in building an individual admissions plan.